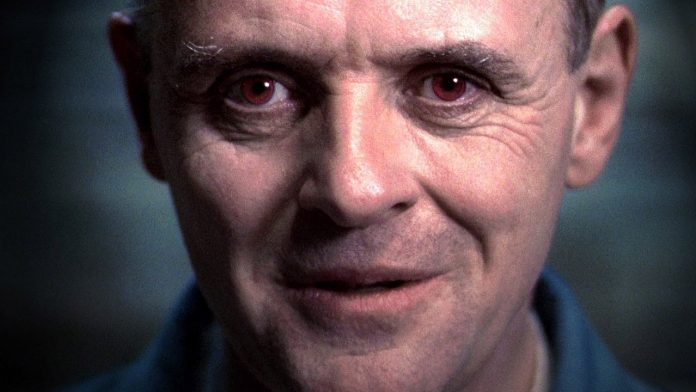 Sir Philip Anthony Hopkins nasce a Margam nel Regno Unito nel lontano 1937. Molti lo amano per i suoi personaggi e la sua impostazione classica, da psicopatico.   
È ricordato dai più per il ruolo che gli fu affidato nel film di Jonathan Demme Il Silenzio degli Innocenti. Questo non perché sia stata la sua migliore interpretazione ma perché quel personaggio, Hannibal Lecter, era un cazzo di pazzoide psicopatico e il suo viso, il suo corpo, si adattava perfettamente alla parte.
"Uno che faceva un censimento una volta tentò di interrogarmi. Mi mangiai il suo fegato con un bel bicchiere di Chianti"
Una delle narrazioni più avvincenti di tutto il film è sicuramente questa. Anche per quel tipico "ftftftftft" finale. Ecco, due curiosità su questa scena: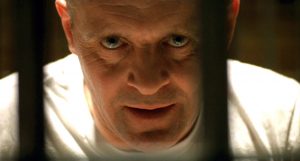 1- Anthony Hopkins è vegetariano. Non riuscirebbe a mangiare neanche una bistecca, figuriamoci un fegato umano!
2- Improvvisò quella specie di verso finale che noi tutti conosciamo. Non era previsto nella sceneggiatura. Inseriamo il pezzo di sceneggiatura, scritta magistralmente da Ted Tally.
         CLARICE
                         And the questionnaire...?

                                     DR. LECTER
                         A census taker once tried to test 
                         me. I ate his liver with some fava 
                         beans and a nice chianti... Fly back 
                         to school, little Starling.

               He steps backwards, then returns to his cot, becoming as 
               still and remote as a statue. Frustrated, Clarice hesitates, 
               then finally shoulders her bag and goes, leaving the 
               questionnaire in his tray. But after just a few steps, as 
               she passes -


Hopkins, nonostante sia uno dei più grandi attori al mondo, è dislessico. Ha dichiarato di leggere 
250 volte 

un copione prima di riuscire ad impararlo a memoria. Esercita la sua memoria con l'imparare ogni settimana una poesia nuova.

È comandante dell'ordine britannico. Ha difatti assunto il titolo di SIR.

Incontrò realmente il personaggio che poi avrebbe interpretato in uno dei suoi ultimi film: Hitchcock. Si incontrarono in un ristorante a Londra e Hopkins era giovanissimo, in compagnia del suo agente teatrale.
Ateo convinto, nonostante abbia più volte palesato il suo "non credere in nulla che non sia dimostrabile con la scienza" ogni tanto si è lasciato andare a pensieri un po' fuori dal "credo" ateista. Ecco un suo stralcio di intervista.
La vita è un grande sogno.Una esperienza curiosa, uno strano processo. A volte torna fuori il mio ateismo ma credo che Dio sia dentro di me, credo che siamo tutti Dio. L'unica cosa che non capisco è che ho amici molto intelligenti, brillanti, assolutamente atei che poi mi dicono: 'la vita è inutile'. O altri che asseriscono che tutto va fatto in base al concetto di verità. Ma anche Hitler o Stalin avevano le loro verità e che orrori hanno commesso! Di solito scappo da quelli che sono convinti di avere la verità in mano. Credi!, ma fai che quello che credi porti alla pace. La condizione umana non è semplice, combattiamo ogni giorno e sappiamo di dovere morire. Siamo condannati a morire, ma anche a vivere, questo è straordinario. Gli animali muoiono ma non hanno coscienza di ciò durante la loro esistenza, noi sì.
Di seguito vi lasciamo alla sua filmografia presa da Wikipedia:
Il bus bianco (The White Bus), regia di Lindsay Anderson (1967)
Il leone d'inverno (The Lion in Winter), regia di Anthony Harvey (1968)
Amleto (Hamlet), regia di Tony Richardson (1969)
Lo specchio delle spie (The Looking Glass War), regia di Frank Pierson (1969)
Ora zero: operazione oro (When Eight Bells Toll), regia di Étienne Périer (1971)
Gli anni dell'avventura (Young Winston), regia di Richard Attenborough (1972)
Casa di bambola (A Doll's House), regia di Patrick Garland (1973)
The Girl from Petrovka, regia di Robert Ellis Miller (1974)
Juggernaut, regia di Richard Lester (1974)
Audrey Rose, regia di Robert Wise (1977)
Quell'ultimo ponte (A Bridge Too Far), regia di Richard Attenborough (1977)
Una corsa sul prato (International Velvet), regia di Bryan Forbes (1978)
The Elephant Man, regia di David Lynch (1980)
In amore si cambia (A Change of Season), regia di Richard Lang (1980)
Il Bounty (The Bounty), regia di Roger Donaldson (1984)
The Good Father – Amore e rabbia (The Good Father), regia di Mike Newell (1985)
84 Charing Cross Road, regia di David Hugh Jones (1987)
L'irlandese (The Dawning), regia di Robert Knights (1988)
L'opera del seduttore (A Chorus of Disapproval), regia di Michael Winner (1988)
Ore disperate (Desperate Hours), regia di Michael Cimino (1990)
Il silenzio degli innocenti (The Silence of the Lambs), regia di Jonathan Demme (1991)
Freejack – In fuga nel futuro (Freejack), regia di Geoff Murphy (1992)
Spotswood, regia di Mark Joffe (1992)
Casa Howard (Howards End), regia di James Ivory (1992)
Dracula di Bram Stoker (Bram Stoker's Dracula), regia di Francis Ford Coppola (1992)
Charlot (Chaplin), regia di Richard Attenborough (1992)
The Trial, regia di David Hugh Jones (1993)
The Innocent, regia di John Schlesinger (1993)
Quel che resta del giorno (The Remains of the Day), regia di James Ivory (1993)
Viaggio in Inghilterra (Shadowlands), regia di Richard Attenborough (1993)
Morti di salute (The Road to Wellville), regia di Alan Parker (1994)
Vento di passioni (Legends of the Fall), regia di Edward Zwick (1994)
Gli intrighi del potere – Nixon (Nixon), regia di Oliver Stone (1995)
August, di Anthony Hopkins (1996)
Surviving Picasso, regia di James Ivory (1996)
L'urlo dell'odio (The Edge), regia di Lee Tamahori (1997)
Amistad, regia di Steven Spielberg (1997)
Spice Girls – Il film (Spice World), regia di Bob Spiers (1997) – cameo non accreditato
La maschera di Zorro, (The Mask of Zorro), regia di Martin Campbell (1998)
Vi presento Joe Black (Meet Joe Black), regia di Martin Brest (1998)
Instinct – Istinto primordiale (Instinct), regia di Jon Turteltaub (1999)
Titus, regia di Julie Taymor (1999)
Mission: Impossible II, regia di John Woo (2000) – non accreditato
Hannibal, regia di Ridley Scott (2001)
Cuori in Atlantide (Hearts in Atlantis), regia di Scott Hicks (2001)
Bad Company – Protocollo Praga (Bad Company), regia di Joel Schumacher (2002)
Red Dragon, regia di Brett Ratner (2002)
La macchia umana (The Human Stain), regia di Robert Benton (2003)
Alexander, regia di Oliver Stone (2004)
Proof – La prova (Proof), regia di John Madden (2005)
Indian – La grande sfida (The World's Fastest Indian), regia di Roger Donaldson (2005)
Bobby, regia di Emilio Estevez (2006)
Tutti gli uomini del re (All the King's Men), regia di Steven Zaillian (2006)
Patto con il diavolo – Shortcut to Happiness (Shortcut to Happiness), regia di Alec Baldwin (2007)
Il caso Thomas Crawford (Fracture), regia di Gregory Hoblit (2007)
Slipstream – Nella mente oscura di H. (Slipstream), regia di Anthony Hopkins (2007)
La leggenda di Beowulf (Beowulf), regia di Robert Zemeckis (2007)
Quella sera dorata (The City of Your Final Destination), regia di James Ivory (2009)
Wolfman (The Wolfman), regia di Joe Johnston (2010)
Incontrerai l'uomo dei tuoi sogni (You Will Meet a Tall Dark Stranger) regia di Woody Allen (2010)
Il rito (The Rite), regia di Mikael Håfström (2011)
Thor, regia di Kenneth Branagh (2011)
Passioni e desideri (360), regia di Fernando Meirelles (2011)
Hitchcock, regia di Sacha Gervasi (2012)
Bare Knuckles, regia di Eric Etebari (2013) – cameo non accreditato
Red 2, regia di Dean Parisot (2013)
Thor: The Dark World, regia di Alan Taylor (2013)
Noah, regia di Darren Aronofsky (2014)
Il caso Freddy Heineken (Kidnapping Mr. Heineken), regia di Daniel Alfredson (2015)
Premonitions (Solace), regia di Afonso Poyart (2015)
Go with Me, regia di Daniel Alfredson (2015)
Conspiracy – La cospirazione (Misconduct), regia di Shintaro Shimosawa (2016)
Collide, regia di Eran Creevy (2016)
Transformers – L'ultimo cavaliere (Transformers: The Last Knight), regia di Michael Bay (2017)