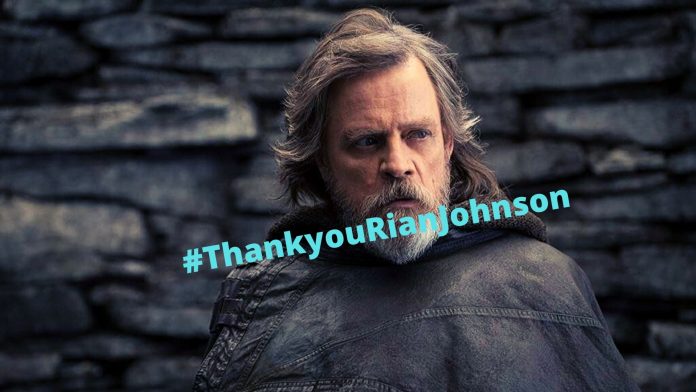 I fan ringraziano in massa il regista Rian Johnson su Twitter, ma perché? Ve lo spieghiamo noi
Da qualche ora i fan di Star Wars stanno twittando in massa scrivendo l'hashtag ThankyouRianJohnson. Vi ricordiamo che l'ultimo capitolo di Star Wars è uscito nei cinema americani il 20 dicembre, quindi in molti lo hanno visto in questi primi giorni di proiezione.
Se state pensando a un ringraziamento sarcastico, vi state sbagliando. Infatti, in molti, dopo aver visto Star Wars: L'Ascesa di Skywalker (qui la recensione), hanno rivalutato Star Wars: Gli Ultimi Jedi e lo elogiano su Twitter in questa vigilia di Natale 2019.
Qui sotto per esempio, lo ringraziano per aver inserito nuovi personaggi femminili:
#thankyourianjohnson for putting female characters of bravery, intelligence, and conviction at the forefront of your Star Wars chapter. pic.twitter.com/FJnqgwMfOU

— Ava Moss? (@AVAcado95) December 24, 2019
Qui sotto lo ringraziano per una delle più belle scene della saga:
#thankyourianjohnson For a film that pushed the boundaries of what blockbuster cinema could be and a scene that represents Star Wars at its best. pic.twitter.com/1Mds4RqGGa

— Droid Heads (@droidspod) December 24, 2019
Per un momento indimenticabile:
#thankyourianjohnson for Paige Tico. One of many powerful moments in TLJ. pic.twitter.com/FmUk9mwpom

— Smilla Straal | You starve and near-exhaust me (@SmillaStraal) December 24, 2019
E per aver fatto il miglior film della nuova trilogia:
#thankyourianjohnson For giving us the best Star Wars movie in the sequel trilogy. pic.twitter.com/7JjN6zp6Ya

— DaniIsMyWebName (@DaniIsMyWebNam1) December 24, 2019
Per la miglior gif di sempre:
#thankyourianjohnson for one of my favorite gifs of all time. pic.twitter.com/HFpKG0VzDz

— Honeybee ? is now undecided (@Honeybeeontime) December 24, 2019
Alla fine il regista ha risposto:
Infinitamente impressionato dalla vostra passione, creatività, rabbia, gioia, positività, eccitazione, impegno e amore. Vi opponete continuamente ogni tipo di narrazione cinica. Siete i migliori. #thankyoustarwarsfans
Endlessly awed by your passion, creativity, anger, joy, positivity, excitement, engagement and love. You continuously defy every cynical narrative. You're the best. #thankyoustarwarsfans

— Rian Johnson (@rianjohnson) December 24, 2019
E voi, per cosa direste ThankYouRianJohnson?
Leggete dove si è classificato il film di Ryan Johnson nella nostra classifica dei migliori film di Star Wars in questo articolo. Qui invece la risposta di J. J. Abrams alle critiche social.
In questo articolo invece, potete leggere un breve riassunto dei primi 8 capitoli prima di vedere L'Ascesa di Skywalker al cinema.
Continuate a seguirci alla nostra pagine facebook Lascimmiapensa.com.