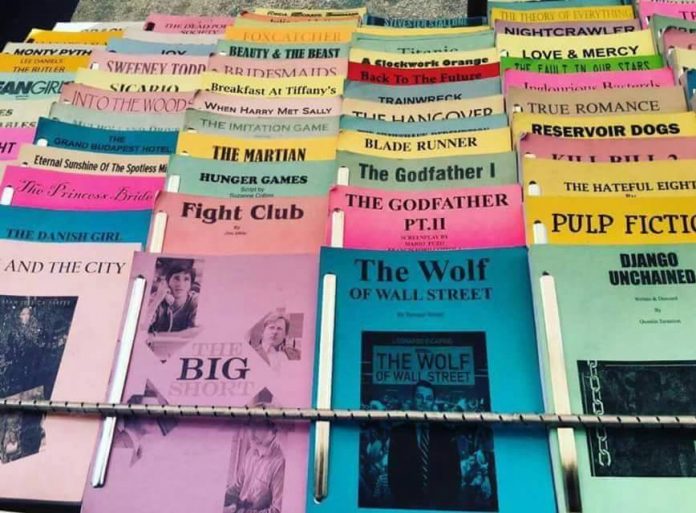 La creazione del prodotto filmico richiede un processo creativo estremamente lungo, complesso e variegato, e la creazione delle sceneggiature è un passaggio chiave.
Infatti tutto inizia con la concezione dell'idea, che deve poi essere tramutata in sceneggiatura, ovvero la puntuale narrazione delle vicende, delle situazioni e degli sviluppi del film.
In passato per recuperare delle sceneggiature era necessario passare per le case editrici, ma grazie all'avvento del digitale e della condivisione online è oggi molto più facile procurarsele per poterle leggere, studiare o semplicemente custodire gelosamente.
Abbiamo così deciso di raggruppare in questo articolo oltre 100 sceneggiature di alcuni dei più grandi film usciti negli ultimi anni, messe a disposizione dalle stesse case di produzione per essere scaricate in PDF in modo completamente gratuito e legale: una vera e propria miniera d'oro per aspiranti sceneggiatori o semplici appassionati.
Le sceneggiature sono in ordine alfabetico e spaziano tra tutti i generi: si passa dall'animazione del recente Oscar winner Pixar Coco al biopic drammatico Dallas Buyers Club, dall'ultimo capolavoro di Quentin Tarantino The Hateful Eight al cinecomic Logan.

Insomma, ce n'è davvero per tutti i gusti.
Il nostro consiglio è di scaricare quanto prima le sceneggiature che più vi interessano, non possiamo sapere per quanto ancora saranno disponibili!
NOTA BENE: QUESTE SCENEGGIATURE SONO A SOLO SCOPO EDUCATIVO!
99 Homes
A Monster Calls
A Most Violent Year
American Hustle
American Sniper
Amour
Animal Kingdom
Another Year
Anthropoid
Battle of the Sexes
Beauty and the Beast
Before Midnight
Beginners
The Beguiled
The Boxtrolls
Brad's Status
Breathe
Bridget Jones's Baby
Bridge of Spies
Brigsby Bear
Captain Fantastic
Celeste and Jesse Forever
Coco
Dallas Buyers Club
The Danish Girl
Danny Collins
Darkest Hour
Deadpool
Dear White People
Denial
Elizabeth Blue
Eye in the Sky
A Fantastic Woman
Film Stars Don't Die in Liverpool
The Founder
Foxcatcher
Foxtrot
Get Low
Get Out
The Girl on the Train
Gold
Guardians of the Galaxy Vol. 2
Hail, Caesar!
Happy End
The Hateful Eight
Hell or High Water
Hidden Figures
I Smile Back
I, Tonya
I'll See You In My Dreams
Inherent Vice
Inside Job
The Invisible Woman
The Invitation
Kill Your Darlings
Kubo and the Two Strings
Learning to Drive
Legend
The Leisure Seeker
Leviathan
Lion
Locke
Logan
Love Is Strange
Loveless
Loving
Made in Dagenham
The Man Who Invented Christmas
Man Up
Mark Felt: The Man Who Brought Down The White House
The Martian
Maudie
Middle of Nowhere
Mother and Child
Mr. Turner
Mudbound
My Big Fat Greek Wedding 2
My Week with Marilyn
Nocturnal Animals
Norman: The Moderate Rise and Tragic Fall of a New York Fixer
Novitiate
The Past
Pawn Sacrifice
The Place Beyond the Pines
Please Give
Rust and Bone
Savage Tales
The Secret Life of Pets
Short Term 12
Sing
Sing Street
Smashed
The Social Network
Steve Jobs
Still Alice
Straight Outta Compton
Suffragette
The Theory of Everything
Three Billboards Outside Ebbing, Missouri
Trumbo
Victor Frankenstein
Victor and Abdul
Wadjda
War for the Planet of the Apes
Whiplash
Woman in Gold
NOTA: vi chiediamo gentilmente di segnalarci eventuali link non funzionanti.